The May 8th 1941 edition of the Waterbury Record reported that the golf course was purchased from Mr. and Mrs. Davis, stating that "The course is one of the most picturesque and finely situated of any in Vermont and it is most gratifying that Waterbury is to be afforded a chance to own this beautiful property."
Prior to this, the course was owned and operated by W.F. Davis and the Waterbury Inn, once located at the corner of Main Street and Park Row in the Village of Waterbury. Mr. Davis added both the golf course and a 3000 yard archery course on Blush Hill Road to compliment the many amenities enjoyed by the guests of the Inn. Archery golf was very rare in the area, and   the Waterbury course was only the second to be built north of Pinehurst,   N. C. The June 29, 1930 edition of the Waterbury Record reported that "In it will be hazards, such as trees to shoot over or through. Instead of holes there are wickets with distances between of from 195 to 425 yards. The game is similar to golf in principal but bows and arrows are used instead of golf stick and ball." The archery course was laid out around the golf course but had to be relocated elsewhere on the property due to the congestion on the course. The article further reported that the new game was very popular which was "attested by the fact that Mr. Davis instructed more than 200, who are now enthusiasts."
Over the years the club has enjoyed a very active membership. In the summer of 1956 local dentist Robert Kennedy enlisted the help of other club members to build a new club house. Members worked tirelessly under the supervision of Ernest Metayer, and construction workers from the interstate helped to finish the new building. The women assisted with the fundraising, with food and fancy work booths run by Lois Sabin, Becky Warren and Billie Durkee. Robert and Lorette Kennedy co-chaired the fundraising effort. The Robert F. Kennedy Men's Member – Guest tournament is named in his honor for all his hard work and dedication to the club. In the early years the women hosted bridge parties, and both the men and women have organized and hosted many golf tournaments throughout the 75 year history of the club. In recent years, many of these tournaments and club events have benefited local area non-profit organizations. The Calcutta Fundraiser held in June benefited the Vermont Health and Hospice in Waterbury. This year the Ladies "Olde Biddie Open" tournament will benefit the Vermont Food Bank. The Ladies Invitational scheduled for August will benefit Camp Ta Kum Ta, as it has for many years. The Annual Fall Classic will be held over the course of three days in September, and the benefactor of this tournament will be determined very soon. The Men's and Ladies Member Member and Member Guest Tournaments are also held annually, as is the Men's Seniors Tournament and the Club Championship.
Blush Hill Country Club continues to be a very active and sociable golf club. We are proud of our long history of great golf and look forward to another 65 enjoyable and successful years.
Overview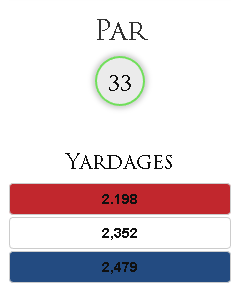 Description
Situated on Blush Hill overlooking the Worcester Mountain Range our nine hole course offers great scenic views on every hole. At just over 2,000 yards in length this short course offers six par 4's and three par 3's. With the smallest greens around even the most experienced golfers will be challenged.